ADATTAMENTORimuovere le solette attualmente presenti all'interno delle proprie scarponi da sci. Inserire le nuove Alpine Insoles all'interno degli scarponi da sci per verificare che la misur...
ADAPTACIÓNRetire las plantillas originales de las botas de esquiar. Coloque las Alpine Insoles nuevas en las botas de esquiarpara asegurarse de que tienen el tamaño adecuado. Si es necesario, recor...
ADAPTATIONRetirez les semelles intérieures de vos chaussures de ski. Placez vos nouvelles Alpine Insoles dans vos chaussures de ski afin de vous assurer que la taille est la bonne. Si besoin, racco...
Suomalainen: Alpine Insole Tech
SOVITTAMINENPoista monoistasi olemassa olevat pohjalliset. Aseta uudet Alpine Insoles-pohjalliset monoihisi tarkistaaksesi, että koko on oikea. Muotoile uusia Alpine Insoles-pohjallisia tarvittaess...
Norska: Alpine Insole Tech Info
ANPASSNING/ TILPASSNINGTa ur existerande/ nuværende sulor/ såler från dina pjäxor/ skistøvler. Placera dina nya Alpine Insoles i pjäxorna/ skistøvler för att kontrollera att storleken/ størr...
Svenska: Alpine Insole Tech Info
När du åker skidor så har du en ökad belastning med upp till cirka 40 ggr din kroppsvikt på grund av den flygfas och de excentriska krafterna som uppstår vid eventuella svängar och hopp. Detta stä...
English: Alpine Insole Tech Info
When skiing, the eccentric forces of turns and jumps creates an increased load of up to 40 times your body weight. This demands a lot from your equipment! We have collected data from skiers' diffe...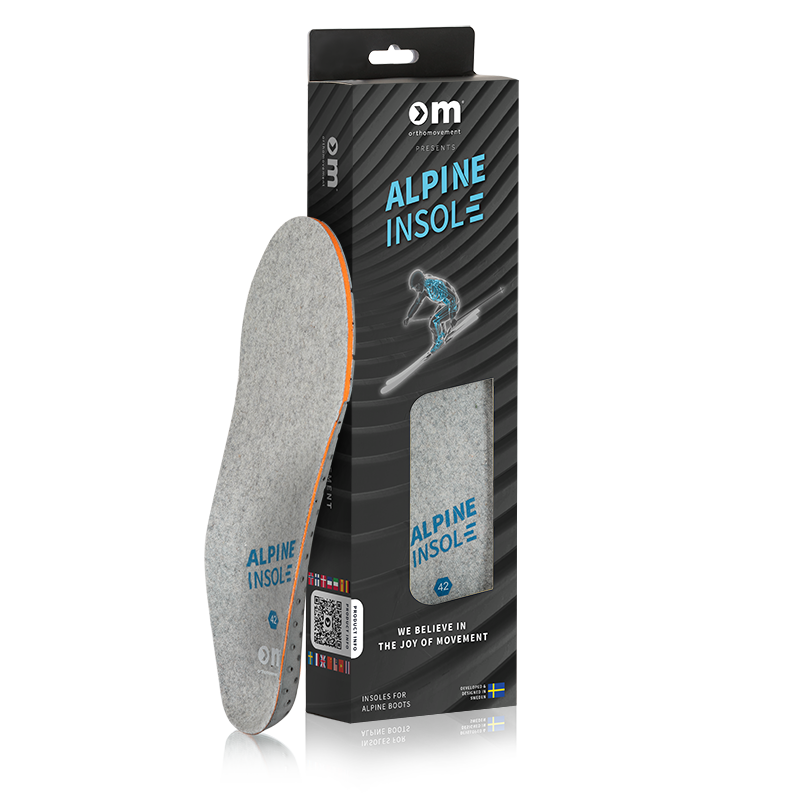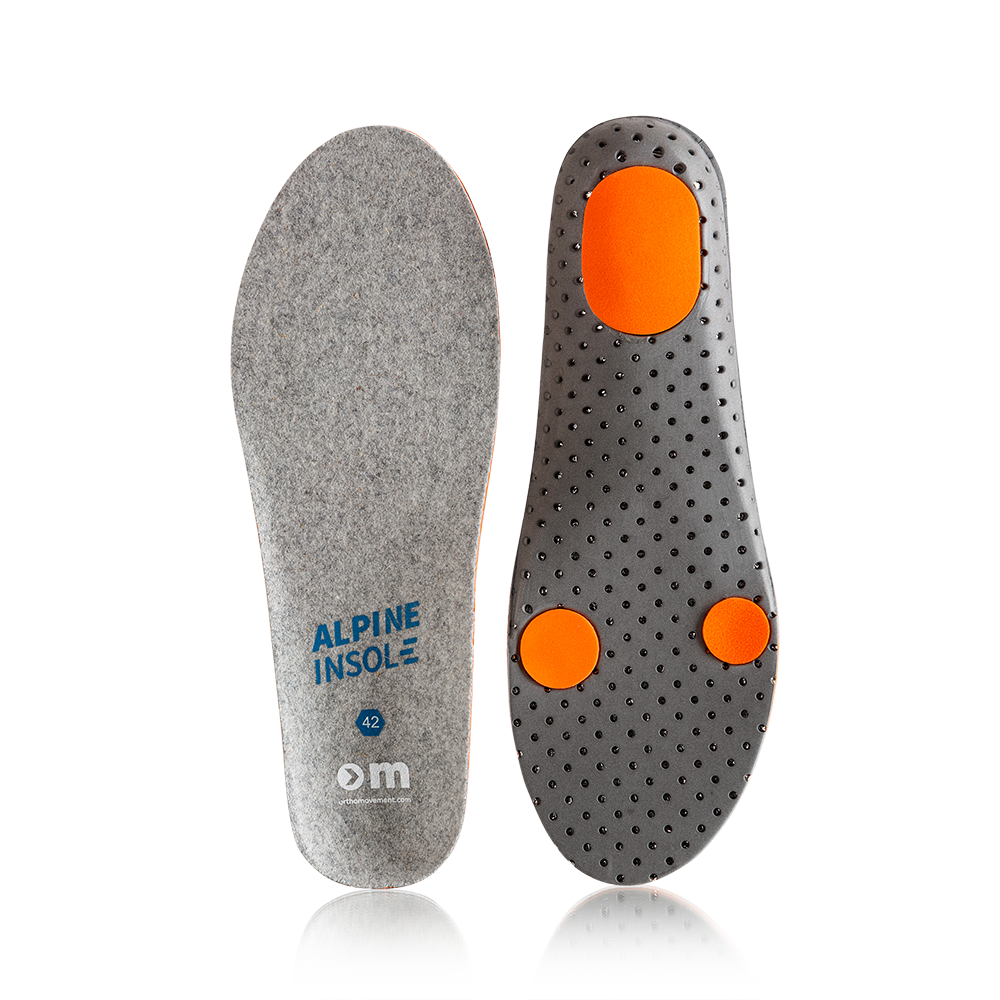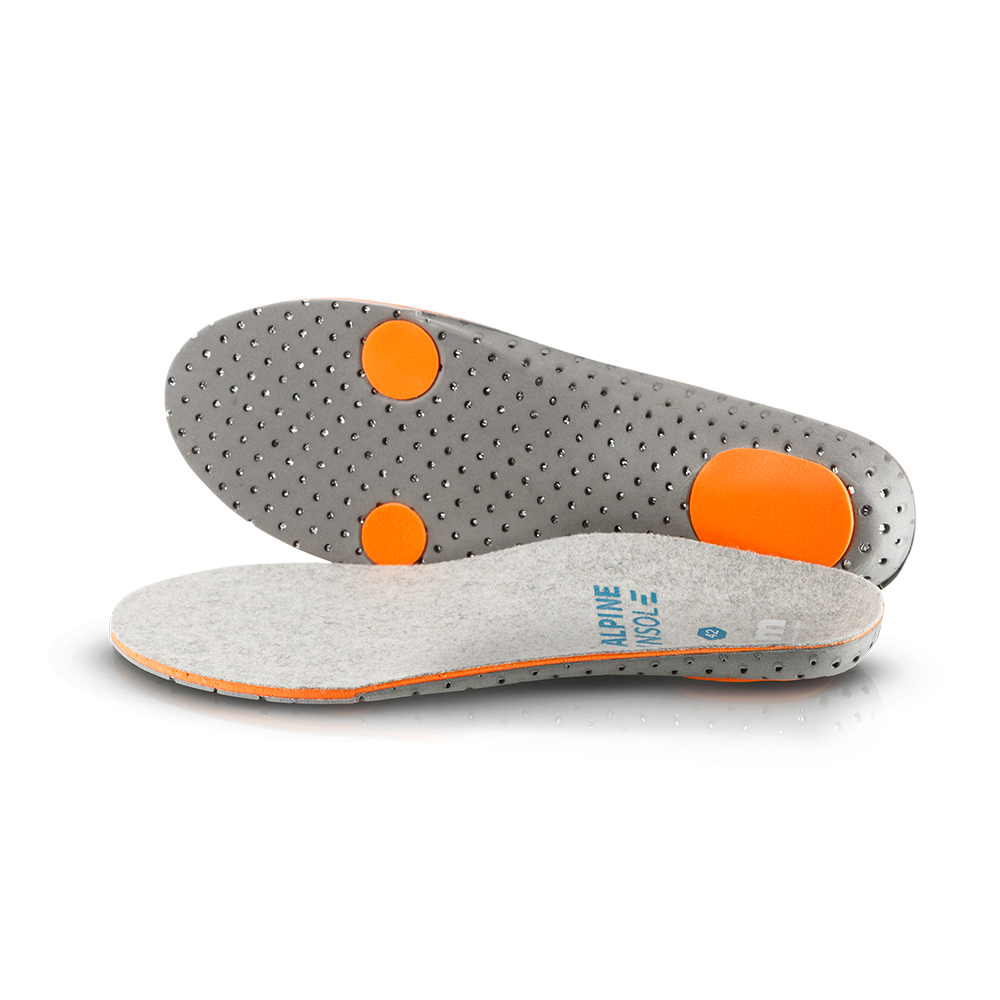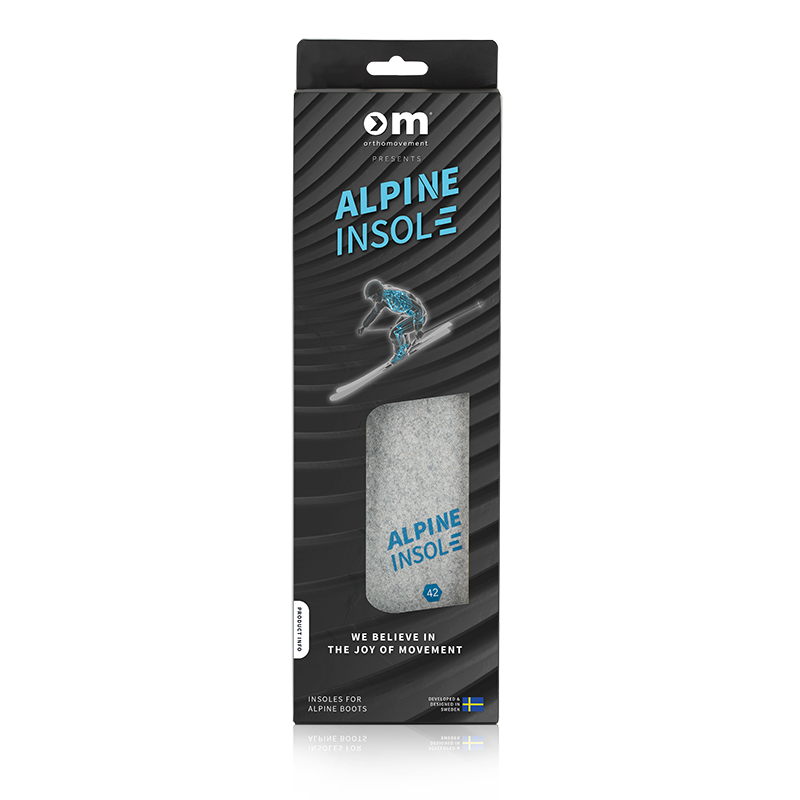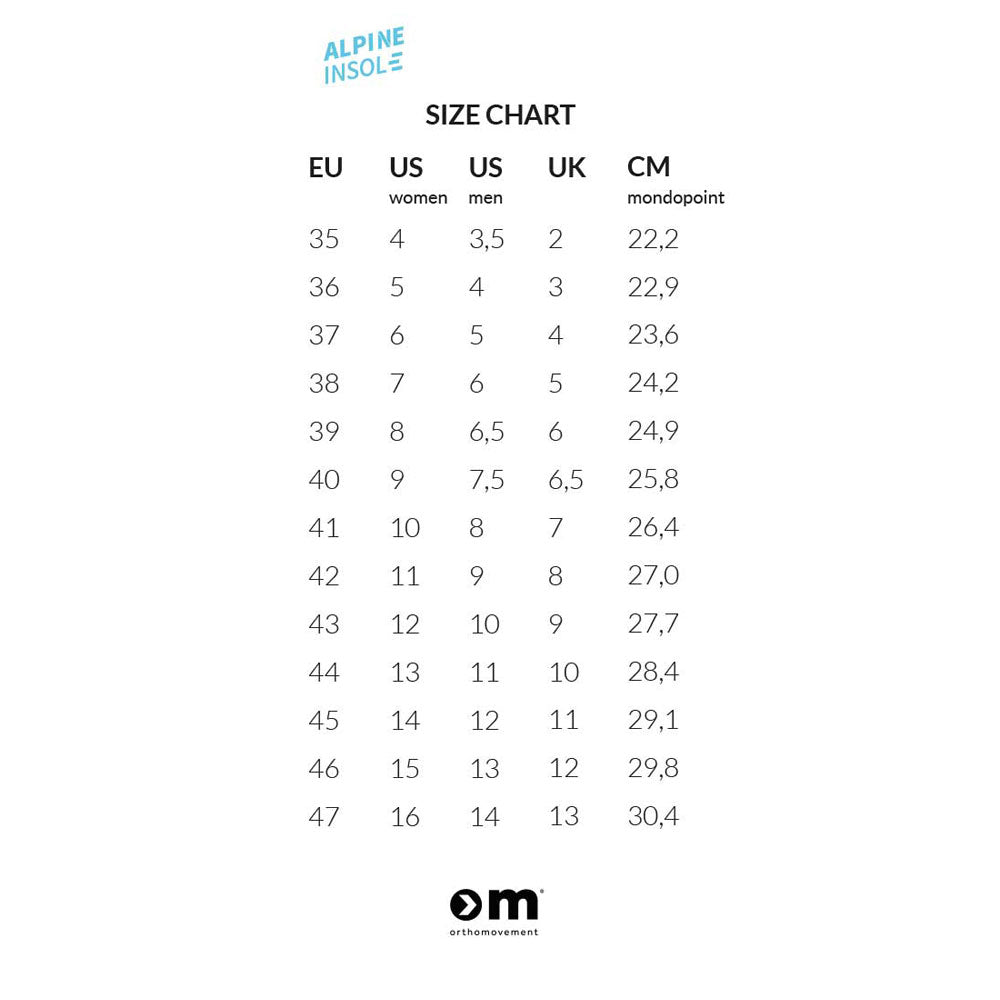 ---
Alpine Insoles are crafted for skiers and snowboarders who love to carve the slopes without getting tired feet, they upgrade the boot with shock absorption, stability and relief as well as providing warmth.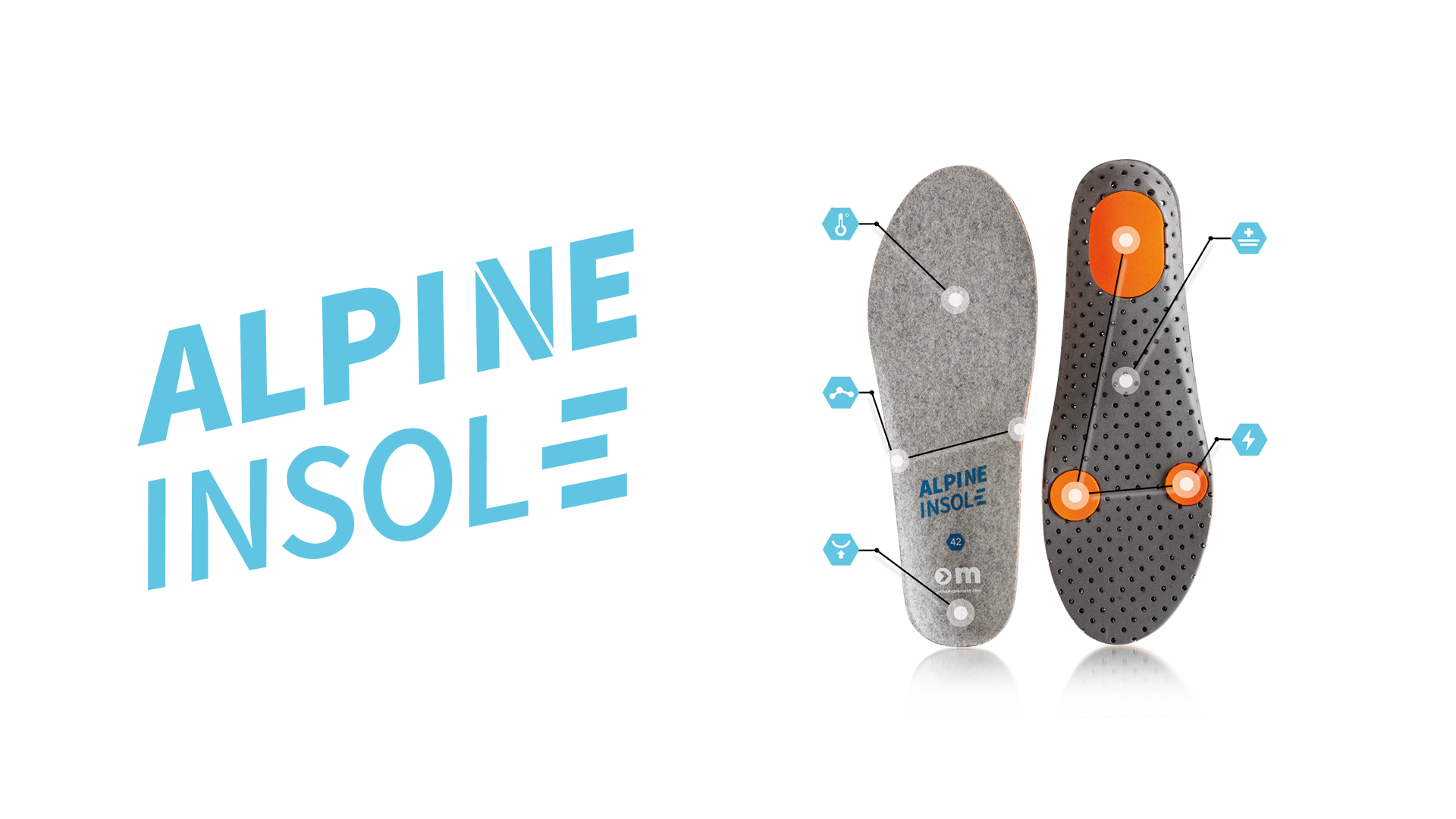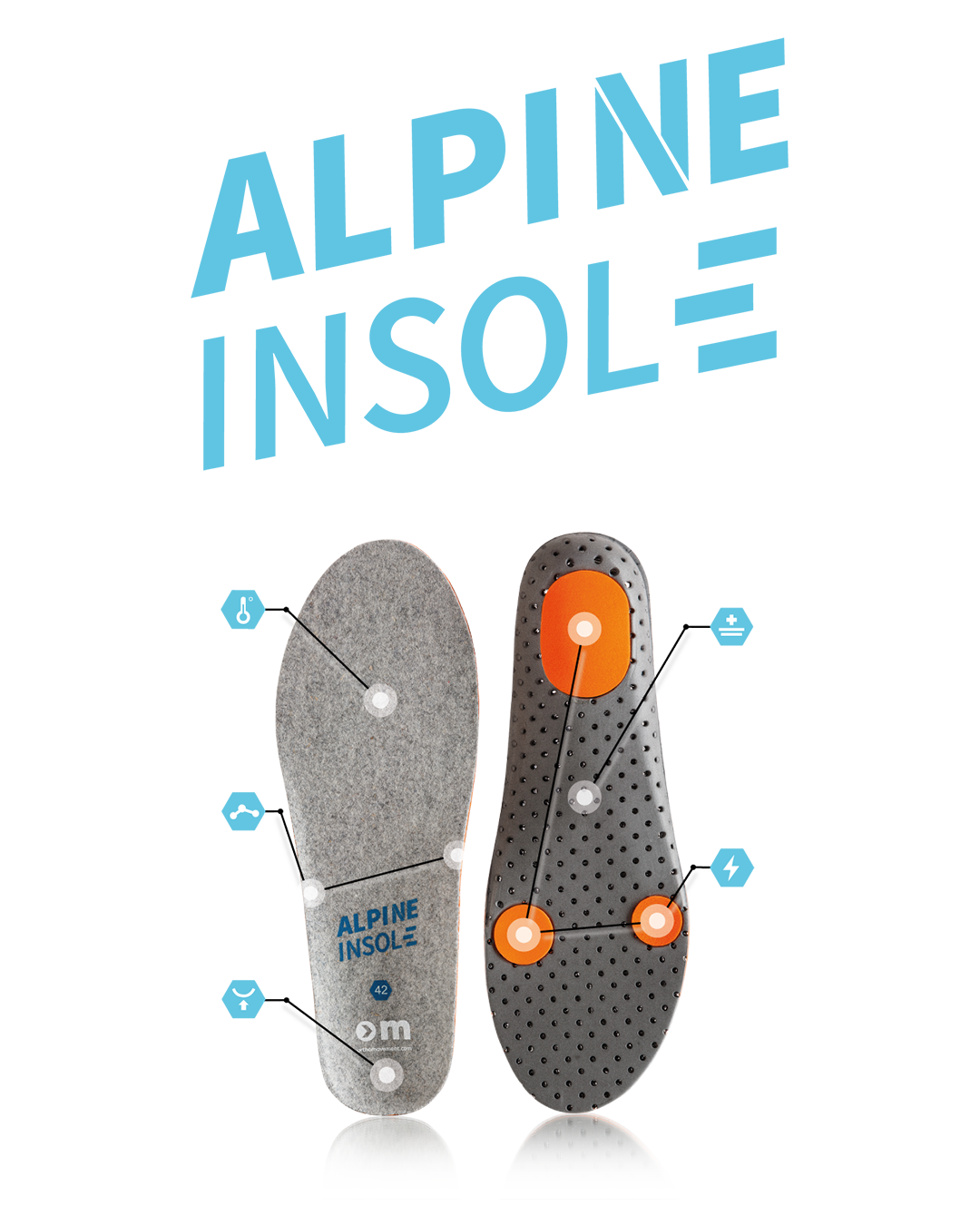 Description & Specs
When skiing, the eccentric forces of turns and jumps creates an increased load of up to 40 times your body weight. This demands a lot from your equipment! We have collected data from skiers' different feet from around the world. This data, as well as the movement patterns while skiing and the design of today's alpine boots, forms the basis for Alpine Insole's design and function. The purpose of the Alpine Insoles are to reduce the load on the rider's muscles and joints, to create better conditions for all who love to ski, regardless if you are an occasional or professional skier.
Satisfaction guarantee
This product is covered by our satisfaction guarantee, which you can read more about here
The top cover material is made of a mixture of merino wool and polyester. It breathes well, provides warmth and comfort. An additional layer of warming material have been added. It also minimizes the risk of chafing and blisters.
The longitudinal footrest support is uniquely designed to fit as many feet type as possible.
The anatomical heel cup distributes pressure under the heel, reducing the load by contracting the heel's fat pad and reinforcing its natural function.
The orange zones provides extra shock focus. We have put a layer across the whole insole. Additional, well selected zones have been outplaced in order to provide extra cushioning to vulnerable and exposed parts such as heels, joints and bones to maximize the body's relief. The shape and placement of the zones are specially designed after skiers' pressure patterns such as while carving.
The grey E.V.A material provides a combination of extra support and shock absorption, which reduces rotational forces.
Cut along the edge to required size.
Remove the existing insoles from your Alpine boots. Place your new Alpine Insoles in your boots to make sure the size is correct. If necessary, trim your new Alpine Insoles with scissors if they don't fit. Tip: Use your original insoles as a template! Gradually increase the use of your new Alpine Insoles because there may be new load patterns on your body. CLEANING & CARE: The product is not resistant to high temperatures. You can use lukewarm water and soap for cleaning. Dry at room temperature. Do not wash in a washing machine. LIFE SPAN: Replace your insoles after 6-12 months or when they are showing signs of wear and tear.
EU 35-46, see size chart image for more size information.
Our mission at om is to break the human limits to experience more. Inspired by movement. Powered by passion. Move with us, and feel the joy.
More about OM