OMniverse – Hanging off a cliff
I love mountains with all my heart and they have become a part of my life. It might sound hokey, but I have no goal behind climbing.
Federico Cuatto @federicocuatto, the alpine rescuer from northern Italy is what we call, a superhero. Superheroes often have a mantle with a large "S" or similar but Mr. Cuatto's superpower is fearlessness… Federico is a combination of a mountain goat and puma, climbing the unclaimed walls of the alps, skiing the unridden slopes, and rescuing the exposed to risk people when life is in danger. A superhero who puts his own life at risk for saving others. This superpower, fearlessness, is something that we wanted to determine, come closer and understand so we zoom called Federico, and asked him about his feelings while hanging on a cliff with the tip of his fingers. 
What's your goal behind climbing?
I love mountains with all my heart and they have become a part of my life. It might sound hokey, but I have no goal behind climbing. You know, I need no money, no recognition, or honor. All that drives me and motivates me to do the next step on my track is the deepest passion for what I do. That's to say, my goal behind climbing is climbing itself. It's my lifestyle. 

What's the best of being an alpine rescuer?
I'm a software engineer by profession, and being an alpine rescuer is not a job for me. I do it for free just because I feel like that. I feel that it's my purpose, and it's the best — to do what your heart tells you to, not some circumstances or other people. 

Actually, to become an alpine rescuer, you have to undertake a long journey with its own difficulties. There are three main steps you have to pass: pre-selection, the course, one more selection. And only then (!) can you bear the title of an alpine rescuer.
How did you choose this activity? What motivated you when you were choosing it?
Oh, everything is pretty simple here. I have made my decision based on my own needs. When I need help, I want someone to be here and lend a helping hand to me. That's how it works. Our life is a mirror where kindness and empathy are unbeatable. 

You are an alpine rescuer, what kind of activities does that include?
To become an alpine rescuer, you have to master 4 activities: skiing, climbing, ice climbing, and hiking. Yeh, it's not that easy!

Do you remember the first mountain you climbed?
To be honest, no haha! I'm from Piedmont, northwest Italy, which is surrounded on three sides by the Alps. Perhaps, my first mountain was somewhere there. And the best mountains I've climbed were in Monte Bianco.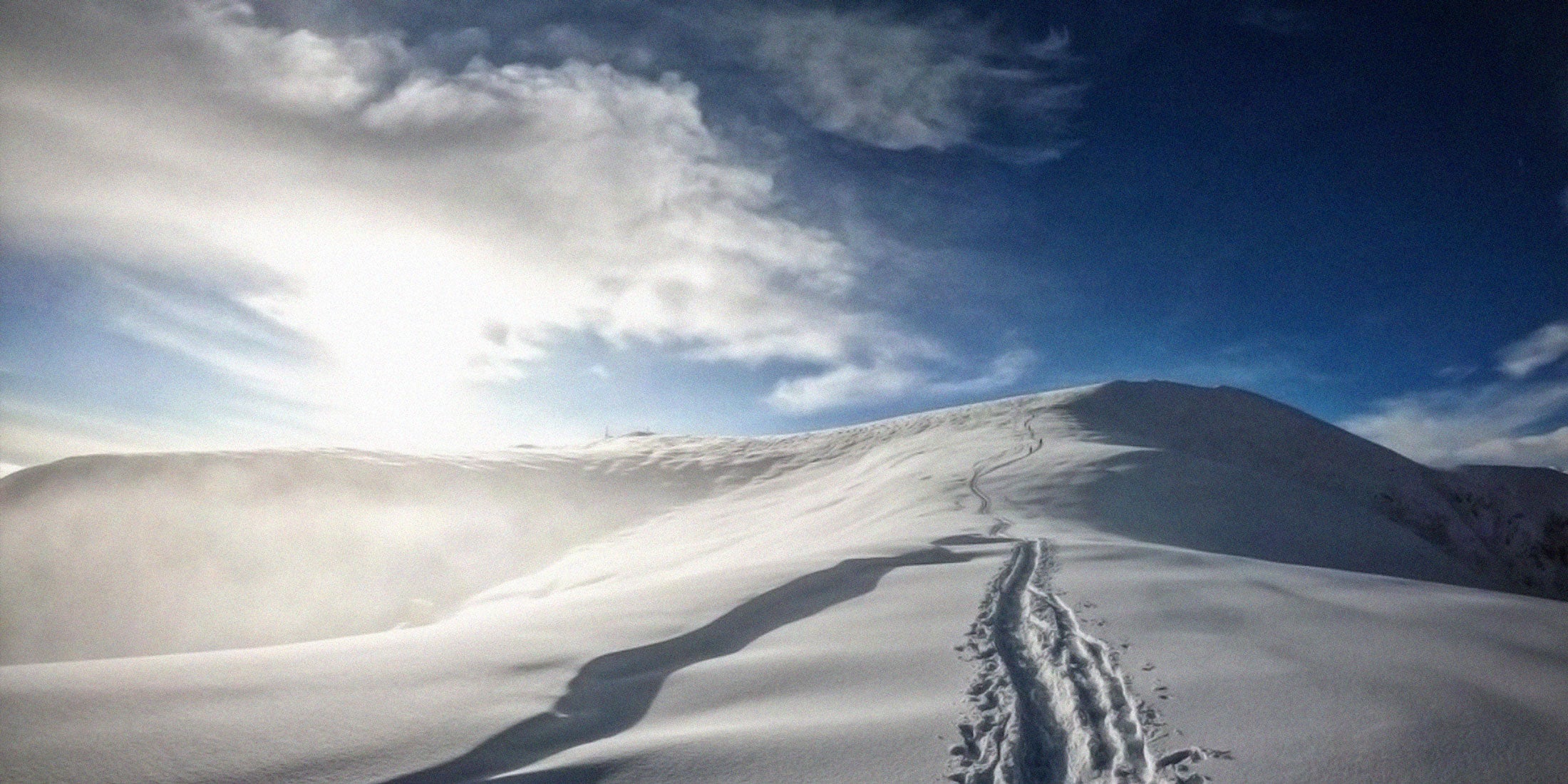 Can you describe your feelings when you are at the top of the mountain?
When you are at the top of the mountain, you enjoy the views you can't observe below. It's absolutely breathtaking! The mind is always projected to the top because as the good Walter Bonatti, he is an Italian mountaineer, explorer, journalist, writer, and photojournalist, nicknamed «The King of the Alps» once said, "The higher he climbs, the farther he sees. The farther he sees, the longer he dreams". Yet sometimes you also need to know how to give up the summit.
You say you love to feel free, in what way and when do you feel it?
For me, climbing means being free, having my mind free, experiencing the mountains and nature, and everything that surrounds me 100% with care. It also means respecting the mountain and not challenging it. I feel free at the top of the mountains with my friend and loved ones while penetrating with the purest nature and enjoying the clearest thoughts. And it is when I put my head and heart into it and understand that, despite concentration, my mind is always free, that I have discovered what freedom is!⁠
What's the most challenging in being a Mountaineer and Alpine Rescuer?
I suppose that athletic training is a real challenge as well as staying away from blowing your own trumpet. It's highly important to be simple and stay humble. Yes, you are a professional and you definitely have to be proud of yourself. Yet the best thing would be not to lose your head and always keep it simple.
When you hang off a cliff or risk yourself to rescue someone else, how does it feel and how can you do it?
When a mountain rescue intervention is triggered, obviously it's never a good thing. The thing that makes every rescuer proud is certainly that of being able to make their skills available to those who need them. When we go out for intervention we know that the risk is never equal to zero, but this is our job and we do it with deep passion and total dedication. Furthermore, we must never forget that if we are in need we will certainly have the help of our rescue partner.

How do our products support you in your work? 
I use the Ortho Movement insoles in all my activities starting from the training or running and ending with ice climbing. These insoles are the only ones I trust to stay in my ski boots (laughing). Moreover, they support me during my workdays as I use the Ortho Movement insoles in all of my shoes. They help me feel free and comfortable anywhere I go, anything I do. Basically, I have forgotten what it is to feel the pressure on your muscles and joints. 
How are you using our activity insoles for these activities?
The different activity requires different insoles to feel comfortable all day long. For running, I have running insoles, for alpine skiing — alpine insoles, etc. The only ones I don't use are football insoles just because I don't play football (laughing).  

What would you recommend the young climbers or the people who are going to take up a new physically active hobby? 
To new people who are approaching climbing, I would definitely recommend getting closer to the mountain to get to know it well, learn it, and fall in love with it. I would advise not to challenge it, to always keep your feet on the ground, to stay humble, and to take things as they come without overdoing it. I simply recommend climbing for pleasure, not for money or for being recognized for your accomplishments. Enjoy it and love what you do!
We are grateful to Federico Cuatto for such amazing answers that inspire to move on, have an active lifestyle, and do what you truly love! Life is definitely too short to stay in the office. And Federico Cuatto is living proof of it! Don't make excuses, take responsibility for your own life, and live it with passion while using upgrade Ortho Movement insoles.
Our mission at OM is to break the human limits to experience more. Inspired by movement. Powered by passion. Move with us, and feel the joy.
More about OM